Discover how to clean your home like a pro with these quick and efficient cleaning tips
To clean your home like a pro, and with optimal results, requires some skill. While you can mop the floors and vacuum every nook and cranny of your home, chances are you're missing out on a tactic to make it as easy and efficient as possible.
Many times, it's hard to beat a professionally cleaned house. Having a cleaning staff to perform household chores is a joy that everyone should experience, even if it's just once. With the help of expert cleaners of house cleaner app, not only you have a sparkling clean home, you'll enjoy more free time to do the things you love.
Often, those household cleaning chores fall on your shoulders. Maybe you have guests over, or you're thinking about spring cleaning? Whatever the reasons, when you have to clean up after yourself, follow this tips to clean your home like a pro:
1. Tidy up first
Whatever the type of space, it's always easier to clean when everything is in its proper place. So, before you start cleaning, go to the rooms and pick up and tidy up all the clutter. Picking up your things and putting them away will leave you with clean surfaces and floors to mop and clean.
It's also easier and faster to clean free surfaces, so you can also leave your home more hygienic. As you collect each item (magazines, paperbacks, old sneakers), don't be afraid to evaluate your belongings to determine if you still need them or can be donated or discarded.
2. Establish a cleaning pattern
Cleaning patterns are the secret weapon of all professional cleaners. Therefore, set a pattern for each room to give it exceptionally clean and not miss a single thing that needs deep sanitizing. Patterns also help keep you from giving in to the «I don't know where to start» worry that often plagues everyone. In addition, the pattern points you to where you should start and what you should perform consecutively.
3. Sanitize from top to bottom
If you vacuum first and dust last, all the dirt you clean will end up in your freshly laundered carpet. Instead, start by sanitizing the top of the room, above high shelves, curtain tracks, and shelves over door frames, and work your way down to the floor.
After dusting, washing, polishing, de-cluttering, and cleaning your rooms, it's time to vacuum and mop. This tactic to clean your home like a pro, ensures that the vacuum and mop will pick up all the dirt that fell on the floor, providing timely cleaning.
4. Apply cleaning products and let them work
You can save time and effort when scrubbing, letting your cleaning products work, and doing a heavy job. Spread them on first and then step away to do other household chores. When you return to resume the physical part of cleaning, it will be much quicker and easier to do because the cleaning solutions have already done their job.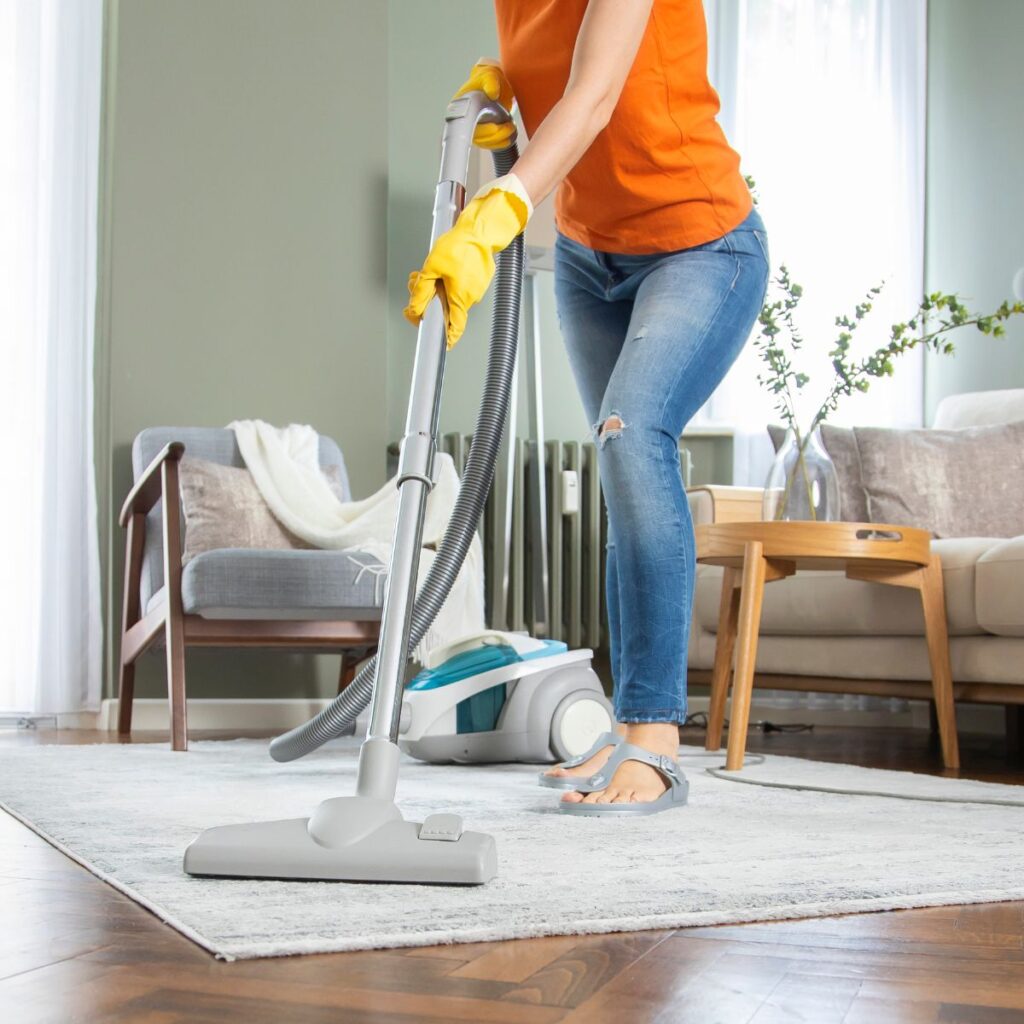 5. Your ceilings and walls also need attention
Look carefully at your ceilings to notice that the laborious spiders have decorated them with spider webs. The walls are not far behind. Kids love to run their hands all over the hallway walls. Whatever the culprit, cleaning your ceilings and walls is very important to give your home an exceptional shine. Make sure you don't skip it!
6. Don't forget your baseboards
Dust and dirt love to accumulate on the ridges of your baseboards. It's such a persistent dilemma that many people let it go unnoticed. You'll notice the difference quickly after cleaning them, and your home will look like a professional cleaner has been there.
7. Vacuum your furniture
Furniture is an essential part of your home because it is where many family members spend most of their time. For this reason, it often accumulates crumbs, dirt, dust, pet hair, etc. So it is vital to clean, dust, and refresh your furniture with the upholstery attachment on your vacuum cleaner to keep it looking new. You can also use a microfiber cloth or damp rag to clean the surfaces of sofas, chairs, tables, shelves, and even lampshades.
8. Shiny kitchen
Want your kitchen to shine? Then give those appliances a shine! First, move them around so you can easily reach every nook and cranny in your kitchen. Then do the same with your shelves and refrigerator; empty them to clean inside with an all-purpose cleaner. A deep clean is the only way to get these kitchen areas spotless.
In addition to cleaning all surfaces, deep clean some appliances. Your stove, mixer, and toaster have never looked so good after cleaning with a proper polish. It's crucial to get into the habit of subtly cleaning and organizing your kitchen after each use and do a more thorough cleaning at least once a week.
Cleaners List, your best ally
It's worth the effort to clean your home like a pro, but you can save time and effort by letting the real experts at CleanersList do the work for you. Download the app to hire a house cleaner today! And enjoy watching professional cleaners leave every corner of your home sparkling clean.