Affordable kitchen storage ideas to keep spaces looking good
Looking for ideas to organize your kitchen easily? We know that cleaning and organizing the house isn't exciting. Instead, arranging can be a hassle and even more in the kitchen.
Maybe it's because the tasks in this space seem like a big job, or it's hard to know how or where to start organizing. But you are here because you need to start tidying up and don't want to spend too much money.
You should know you don't need to spend too much on containers to organize your kitchen. You will be able to do it easily by investing a little money. Start to organize everything in your kitchen after removing all the items from the cabinets and shelves.
Use labels to write categories and attach them to the cabinets or drawers where the items should go. After that, put things back where they belong in the most logical places. If you see that it doesn't look right, change it back. Nothing in your kitchen has to stay the same, apply the following ideas to organize your kitchen and you won't regret it.
The goal is to change what doesn't work for you
The kitchen is prone to clutter, from piles of knocked-over dishes to overcrowded utensil drawers. Avoid chaos by implementing these affordable ideas to organize your kitchen. You'll be able to save money and tidy up your kitchen for an easy-to-handle space.
Ensuring every utensil in your kitchen has a designated place, baking, cooking, and entertaining will be easier. Read on and put into practice these ideas from the professional cleaners of CleanersList (house cleaners app) that they have to share and with little money!
Hang floating shelves
For starters, if you have a little extra wall space but not enough for cabinets, try adding a couple of floating shelves. Place hooks under the bottom rack to hang kitchen towels, utensils, and coffee mugs. Also, to ensure easy access to frequently used items, fill open kitchen shelves with daily essentials such as glasses, coffee mugs, and plates.
Organize water bottles
Keep water bottles in sight and at your fingertips by placing them in filing cabinets. This essential kitchen storage is inexpensive and easy to find in retail stores, so you can save money by organizing your cabinets. Place these file cabinets on your back for quick access.
Add freestanding shelves
Shelves aren't just for reading materials. Place one near your kitchen to store all your cooking utensils. Place this storage piece up high with dishes, spices, and cookbooks stacked to make room in the cabinets.
Gather loose lids
Use inexpensive organizers to revamp the cluttered space where you keep food storage containers. A wall-mounted file holder mounted on a cabinet door is a simple solution for separating plastic lids from the bases. To quickly determine the size you need, arrange them from largest to smallest.
Incorporate clear containers
Use clear storage containers to maintain a uniform look on your countertops. You can buy them in bulk at kitchen supply stores to make them more economical. These are also great for storing dry cereal, snacks, or pet food. Even for a collection of rolling pins on the countertop, apothecary jars with broken or leaking lids can be perfect.
Label pantry containers
Place labeled baskets in bright colors to maximize your pantry space. Stack individually wrapped snacks and breakfast essentials in their boxes and containers to make mornings more bearable. To even more pantry organization, label shelves with the category of their contents.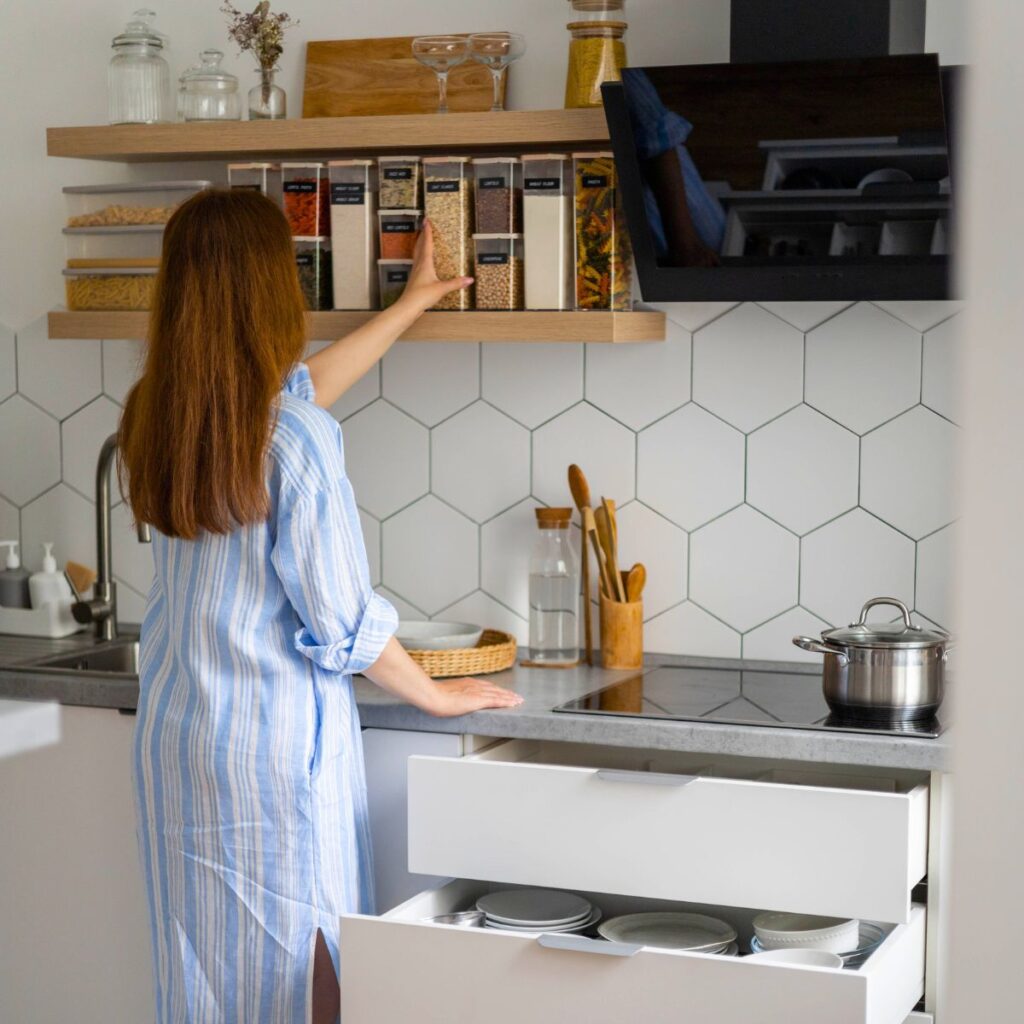 Organize your kitchen drawers
This is one of the most important ideas to organize your kitchen, because an average drawer will become helpful if you add an organizer. To store utensils, use a compartmentalized insert. To designate areas for particular items, add labels to the compartments. You can also look for inexpensive kitchen storage containers, such as the plastic containers in this baking drawer.
Consider a dish rack
A dish rack provides a better way to display dishes while storing them safely on the edge of your countertops. You can place the dish rack near the dining table for easy access or in a dishwasher-safe location for easy storage after washing. If you want an affordable option, you can build your dish rack.
Set up a cleaning station
Keep your cleaning products and items neatly organized and ready for use on a metal cart above the door. The bottom shelf is ideal for storing bottles of supplies, while the top shelf you can use to keep sponges and scouring pads in the foreground.
Organize your freezer with containers
If the products in your freezer are expiring because you can't find what you need when you need them, look for inexpensive storage items to keep your fridge tidy. A trip to a home improvement store will allow you to find colorful wire garbage cans for sorting your frozen meats.
Choose clear stackable containers to keep your food neat and visible; add labels to write contents and expiration dates.
Create a utensil cart with jars
Make easy use of recycled glass jars by adding a rustic style to any table. You can create a utensil using glass milk jars and a simple metal handle cart. Glass jars are also very beneficial for keeping silverware organized in a simple but beautiful serving station.
Stackable baskets
Get a chance to go to a flea market or garage sale, look closely for vintage wicker picnic baskets, and don't hesitate to buy them. These are perfect for storing kitchen items and keeping countertops tidy.
Place these baskets in a corner of the countertop to store hand towels, dishes, or even cookbooks and household papers.
Seek professional help and get ideas to organize your kitchen
Organizing your home, especially your kitchen, isn't always easy. That is why at CleanersList you can find willing experts with the best ideas to organize your kitchen and always keep it clean.
At CleanersList, we serve busy homeowners to keep their homes spotless through our House Cleaning Services. Let our reliable and highly trained professionals take care of your household chores so you can relax and give yourself a well-deserved break.
Download the app to hire a house cleaner and book your service today!