Take into account these tips for cleaning your home if you have pets
We will give the best tips for cleaning a house with pets, if you like to share with a furry friend, this can make you happier; even your pet. Do not worry! Check out these eight cleaning tips below.
Many people are clearly in love with their pets, regardless of whether it's a dog or a cat. But keeping a house clean when you have a four-legged friend running around can also be very difficult.
8 tips for cleaning a house with pets
Living with pets doesn't have to mean living with their dirt and odors. In this post, you can take the time to learn these eight tips for cleaning a house with pets and how to keep your home clean.
Regularly bathe your pet
Do not bathe dogs every week. It's not good for their coat or skin. However, you can do it at least once a month to remove all the dirt and loose hair. Depending on their breed may need a bath as often as once a week. Regular bathing for your pet will keep them smelling fresh and their coat shiny and healthy, and your house will always stay clean.
Frequently brush your dog
Brushing your dog every few days helps to remove dead hair, dander, and dirt. Brushing takes only a few minutes and allows you to bond with your pet. If daily brushing isn't feasible, try brushing once a week, especially if your dog has a long-haired coat, so you avoid getting hair everywhere in the house.
Invest in a quality vacuum cleaner
If you have a dog at home, it will affect your floors. They will be full of dog hair, pet dander, shredded papers that your pet managed to steal from the garbage can, and much more. So, consider buying a quality vacuum cleaner to keep clean carpets and floors.
Automatic vacuums will move around the house constantly and pick up dog hair, dirt, and anything else that falls on the floor, also helping to eliminate unpleasant odors.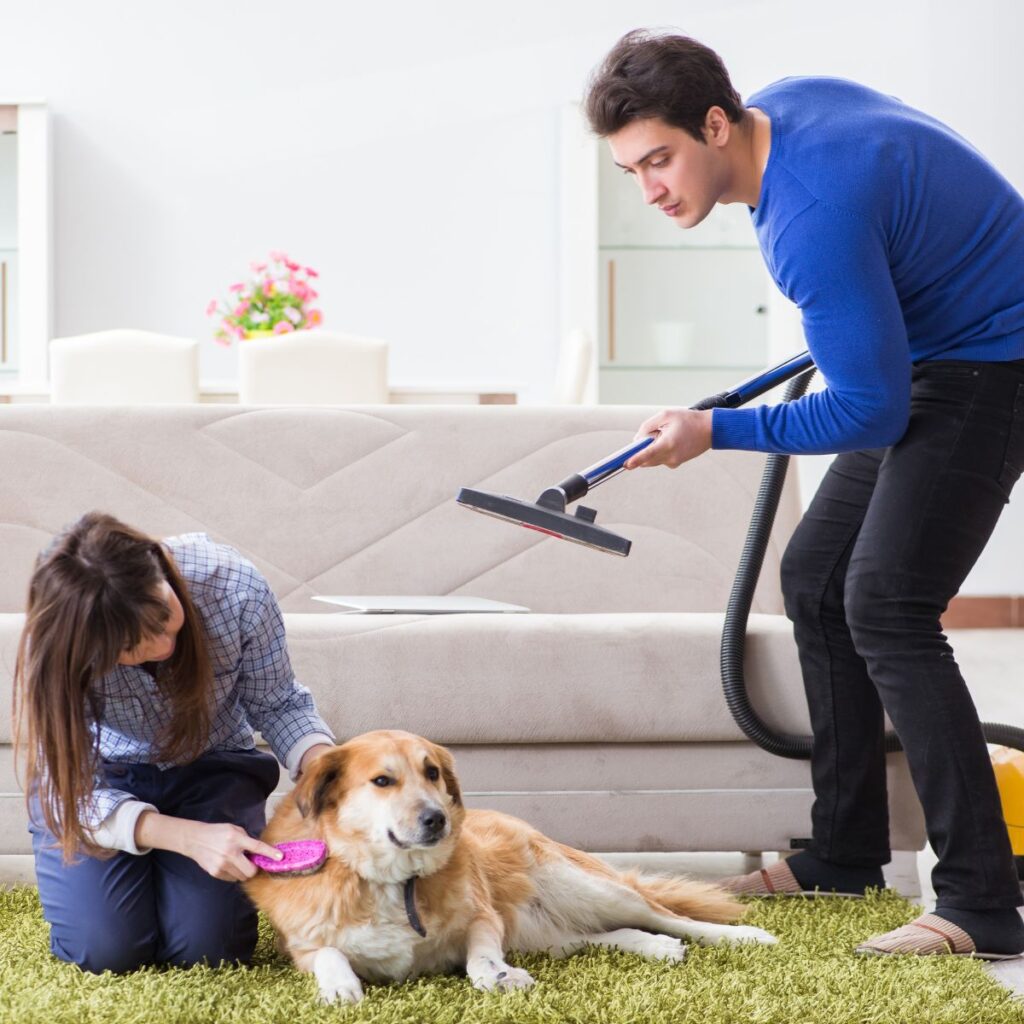 Quickly react to accidents
Some pets are easy to potty train. But even trained dogs will have an accident occasionally. When an accident happens, act quickly and use a stain remover to remove stains and odors from the carpet. It will also keep your home smelling fresh despite some inevitable accidents.
Regularly clean your pet's things
Pet beds, blankets, toys, and even leashes absorb that strong doggy odor and often accumulate bacteria. So be sure to clean them regularly. Wash them periodically during a sunny day and let them air dry. It will help eliminate stinky odors and prevent excess bacteria from spreading to your pet.
Buy the right cleaning products
Having the right cleaning products makes cleaning your home easier; important part to consider among the tips for cleaning a house with pets. A lint roller is excellent for quickly and efficiently removing pet hair from clothing, upholstery, and other fabrics such as curtains, pillows, or sheets.
For floors, buy floor cleaners and a washable, absorbent microfiber cloth to wipe away dirt and grime. Prepare a homemade carpet stain remover by mixing water and baking soda. It is also effective in neutralizing odors.
Keep your pets away from the furniture
Some people love to have cuddle-up pets next to them on the couches. However, dogs can wreak havoc on furniture by leaving dirt, unwanted odors, fur, and stains. Denying them access is a reasonable option that can help set boundaries for your pet and prolong the life of your furniture.
But, if you want to allow your dog to get on, consider covering it with sheets or a pet-friendly and easily washable blanket.
Hire a house cleaning service to clean thoroughly
With a dog or cat in your home, you will need a deep cleaning from time to time, so you can hire a professional house cleaner through CleanersList's house cleaners app to help you with your home cleaning; make sure your house is always free of dog hair, smelling and looking great.