METHODS TO CLEAN SHOWER TILES, CHOOSE THE CORRECT SO AS NOT TO DAMAGE THEM
Here are several effective ways to clean shower tiles without scrubbing. For decorating bathrooms, there is no better choice than tiles. Their glossy surface makes any room look beautiful and elegant. Unfortunately, shower tiles are especially prone to getting dirty or stained.
Now, you may want to bring back the shine of your shower tiles, but scrubbing them and ending up with sore arms is something nobody likes. So, have you ever thought about whether there's a more convenient way to clean your tiles without spending all your energy scrubbing them?
No doubt we've all done it. While scrubbing may be the most favorable method, it can cause irreparable damage to your shower tiles. If you want your shower to look new, sparkling, and lasting, you should look for methods other than scrubbing.
And we're here to help! From using the best cleaning products to have in your pantry, to our helpful tips; Here are the best ways to clean shower tiles without scrubbing once.
Why do your shower tiles get dirty?
You may often wonder how a washed place can be dirty often. It seems a little strange, right? However, when you know why, it all makes sense. Here are a few causes of dirt on your shower tiles:
Dirt: Usually, dirt that falls when you take a bath often settles and sticks to the walls and floor, thus dirtying your shower tiles. If you have pets and bathe them in the shower, this can also contribute to dirt buildup.
Hard water: Water carries minerals that harden and subsequently form a white coating or stick to the tiles once they dry, leaving white or yellowish stains on your tiles and making them look dirty and fuzzy.
Soap: Although soap is a cleaning product, it can form a white coating on tiles if not removed properly. This soap scum can attract dirt and soap particles, causing a buildup of dirt on your shower tiles.
How to clean shower tiles without scrubbing?
In addition to being simple, these ways to clean shower tiles also save money, as you won't need anything you don't have at home. Let's see!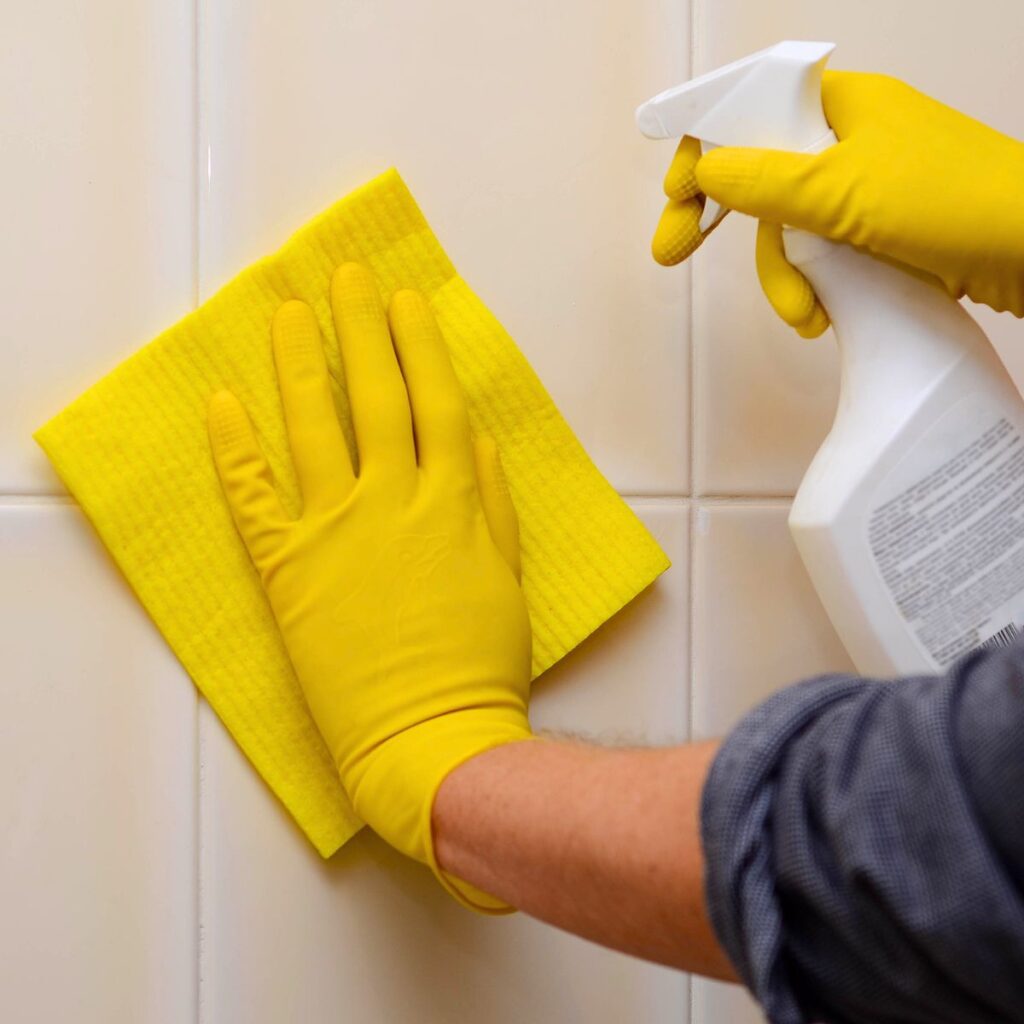 Let the steam rise
To prepare your bathroom for this simple method, turn on the shower and let the hot water run. After 5 to 10 minutes, you will see how the steam will cover the walls. This steam will weaken the dirt and grime so you can easily remove it. Then, turn off the water and continue.
Preparing a cleaning solution
A homemade cleaning solution will be your best option to remove dirt from your tiles. You can prepare some of these to apply on your tiles and leave them spotless:
Vinegar and dishwasher detergent. Vinegar is a very effective cleaning agent. Its high acidity provides easy removal of stubborn stains built up on your tiles without having to scrub as hard. Mixing vinegar with dishwashing detergent makes it even more effective. Mix equal amounts of vinegar and detergent in a spray bottle, then cover the tiles with the homemade solution. Let the solution act for an hour, and wash the tiles with cold water.
Baking soda and vinegar. Baking soda is highly effective for removing stubborn stains, mildew, and odors from shower tiles. To get rid of them, mix baking soda with water and a few drops of vinegar until you get a smooth paste, then generously apply the paste to your tiles. Let it sit for 45 minutes, then rinse the paste with fresh water.
Baking soda and bleach. The mixture of these two products can work magic on your grimy tiles. Prepare a thick mixture with one part bleach and two parts baking soda to effectively remove stains on your tiles. It is recommended not to use too much bleach on the tiles, as it may damage the protective surface. Apply the paste on stubborn stains and let it dry. Then remove the paste with cold water.
Oxygen bleach. Although this is not an eco-friendly ingredient, you can use oxygen bleach to remove tough stains on your tiles without scrubbing. Add three tablespoons of oxygen bleach to a bucket of warm water. Spread this solution on your shower tiles and allow it to work for 15 minutes. Rinse the solution with clean water.
Make Your Tiles Shine Again
Once you have applied a generous amount of your homemade mixture to your tiles, concentrating on the dirtiest areas, remember to let the solution sit for the appropriate minutes. After the time has elapsed, rinse your shower tiles and use a damp microfiber cloth to wipe off any remaining dirt, then use another clean cloth to dry them and prevent mildew.
Want clean tiles that look great?
Let us help you! Caring for your shower tiles can be simple when you take the time for proper cleaning and frequent maintenance. Then let the experts at CleanersList professionally clean your home and get your tiles shining again.
Download the app to hire a house cleaner today and see for yourself!